It is every retailer's purpose to maximize sales per square meter. Retail analytics focuses on delivering insights related to many significant aspects such as sales, inventory and online presence. However, one of the main pillars for brick and mortar store is an intense analysis of the customer flow in their categories so they can evaluate the impact of their decisions. In this article, we will understand how Business Intelligence meets Category Management.
Category management involves managing product categories as business units and customizing them to satisfy customer needs. However, the shelf space problem is significantly different depending on whether we consider the perspective of the manufacturer or retailer. Manufacturers constantly look to maximize their merchandise sales and are interested in allocating the best space for their brands. Whereas retailers are only interested in maximizing sales and profit in the category. Hence, they are less concerned about particular brands and more focused on the optimization of shelf space. Only by striking the right balance between both sides can customers enjoy a large variety of products with competitive prices. It's the category managers' duty to preserve that balance. Nowadays, the digitalization of the point of sale enables the analysis of data events occurring before, during, and after the purchase.
Category management encompasses a process to handle complex changes that are happening in consumer moods and in-store customer behavior.
Category management requires data management
Retailers practicing category management heavily utilize information and technology to understand their shoppers. In the era of advanced information technology, operators have started to use tools and techniques such as software that integrate sales data with pricing, electronic checkout scanners, promotion, merchandising, and consumer data.
Business Intelligence platforms such as Tableau, PowerBL, or Qlik facilitate the acquisition and transformation of data streams from many sources, opening new opportunities such as micromarketing or hyper-segmentation of the customers. Recently, in-store customer journeys have been introduced as a meaningful input to measure, understand, and forecast the outcomes of any strategic decision. It enables the measurement of the performance of the main aisle of a supermarket, calculations of return on investment of a new promotion, and enhances the cross-selling strategies.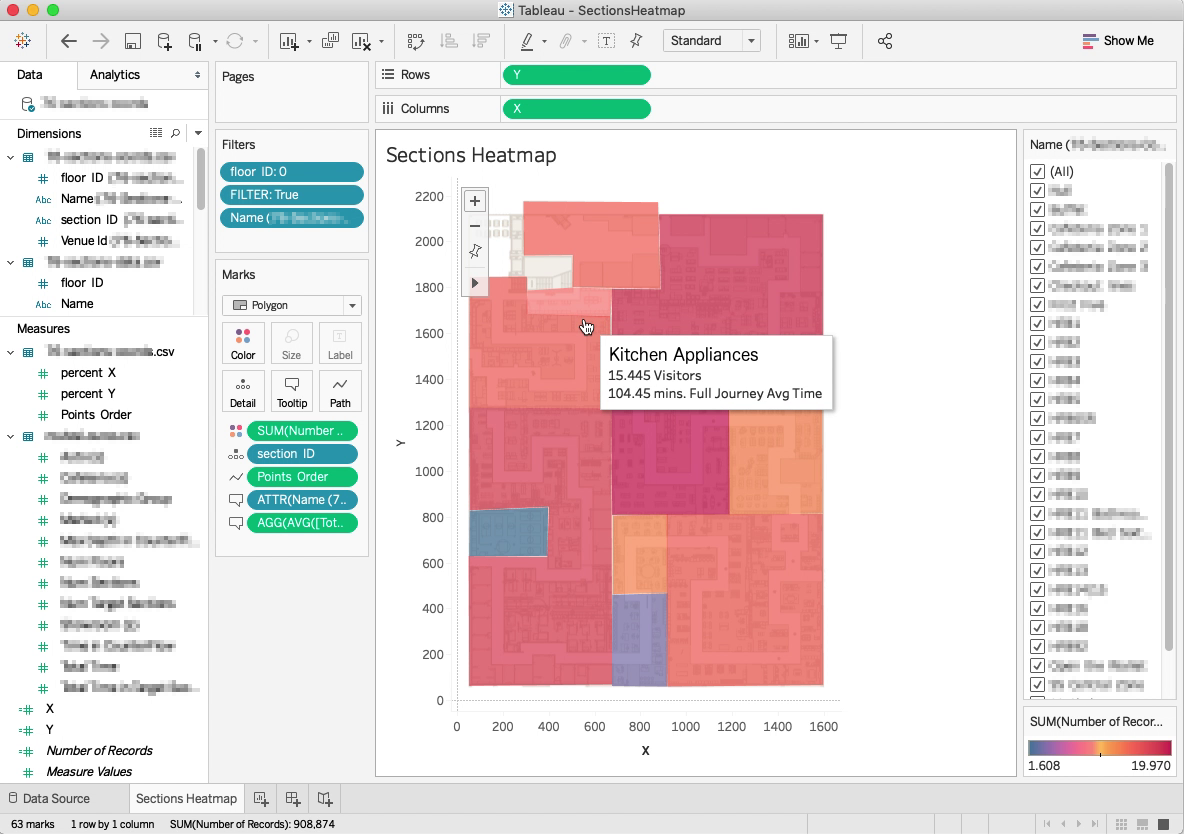 Improving category management with customer flow
Shoppermotion simultaneously compares transactional data and foot traffic on each category, determining their return on investment and their performance in real-time. Benchmarking the ROI among a set of stores enables A/B test validation and eases the analysis of market dynamics. Thus, thanks to this KPI, category managers set the importance of their categories compared to other stores and regions.
Category performance increases in many ways in conjunction with customer flow:
Optimal category placement: Each layout is a different universe and so it is its distribution. Category managers may ask themselves questions such as which destinations their customers are visiting after theirs or the traffic impact of surrounding categories.
Promotional display: Increased sales will surely be achieved through an effective in-store display. Pull marketing in the store increases impulse buying potential due to the exposure of a particular brand or category. It is essential to identify if shoppers visit the promotional display before or after visiting the category.
Category roles: According to dotactiv, there are four category roles regarding how a consumer behaves towards them: destination, routine, seasonal, or convenience. In conjunction with customer flow, it is possible to monitor more effectively whether the roles are being achieved in certain
Conclusions
Business Intelligence has become an essential tool for category management decision-making processes. Retailers are now, more than ever, finding new ways to track in-store behavior. By means of a retail analytics tool such as Shoppermotion, retailers and manufacturers will be ready to optimize their shelves in no time. The digitalization of the stores and the application of advanced in-store analytics has demonstrated a positive impact on the merchants' bottom line and a better way to manage their categories.